Caregiver in Seneca SC
If you are like many people your view of pneumonia likely involves someone bundled up in clothes and heavy blankets, shivering through their symptoms as they suffer in the cold weather months.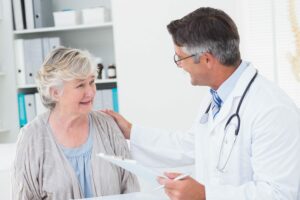 While it is true that many cases of pneumonia occur during the fall and winter months when the common cold and the flu flourish, as a caregiver it is important for you to realize that this is not the only time. Pneumonia can and does occur at other times during the year, including the summer, and can be just as dangerous for your elderly loved one, if not more dangerous due to the heat and humidity making it easier for germs to flourish.
Pneumonia is an infection that occurs within the lungs that is characterized by inflammation and retention of fluid. This infection impacts more than 3 million people throughout the United States each year. Of those people, approximately 17 percent end up having to receive treatment in the hospital. Though today medical understanding and aggressive treatment options make it so that the vast majority of people survive their bout with pneumonia, 5 percent of those who contract it will die from it. A large number of these people are those who are particularly vulnerable, including senior adults. The by-population percentage of those who die from the infection versus those who contract it is much higher among the elderly population than among younger people. The risk for developing pneumonia and suffering severe consequences related to pneumonia are far higher among those with compromised immune systems or other health complications.
It is important to understand that pneumonia can occur at any time of the year, so if your parent is dealing with what you thought were allergies or a bout of summer cold and has not improved, they might have contracted pneumonia and need medical treatment as quickly as possible.
Signs and symptoms of pneumonia include:
High fever
Chills
Cough
Green or rust-colored mucus that comes up from the lungs when coughing
Nausea and vomiting
Fast breathing
Shortness of breath or difficulty breathing
Fatigue even after sleeping
Feeling weak
Headache
Sweating
Shakiness
Chest pain that worsens when drawing in a deep breath
Muscle pain
Confusion
It is especially important to pay attention to these symptoms if your aging parent has recently experienced a cold or the flu as these illness make seniors more vulnerable to developing the serious infection of pneumonia. It is important that the doctor evaluates your parent as soon as possible to determine what is the cause of the pneumonia, whether it is fungal, viral, or bacterial, so that they can develop a course of treatment that is right for them.
If your parent does develop pneumonia this summer, they will need attentive care to ensure that they heal properly and can regain their health and strength as quickly as possible. Some special considerations to keep in mind include:
Keep your parent cool so that they are comfortable as this will help their body heal, but do not let them get chilled.
Practice aggressive germ control throughout the home and do not allow anyone who is or has been ill to visit.
If you are using a humidifier to ease coughing and chest pain, make sure that it is thoroughly cleaned and disinfected regularly to prevent growth of bacteria, germs, and fungi that can worsen the condition.
Encourage your parent to drink plenty of fluid to combat dehydration and aid their body in fighting the infection. This is especially important during the summer when high temperatures and humidity make the risk for dehydration higher.
If you or an aging loved one are considering hiring 

caregiver services in Seneca, SC

, contact Heart of the Carolinas Home Care at 864-991-3116.  Providing Home Care Services in Greenville, Simpsonville, Greer, Anderson, Spartanburg, Mauldin, Seneca, Laurens, Charleston, Columbia and the surrounding areas.
Latest posts by Edward Harrison
(see all)