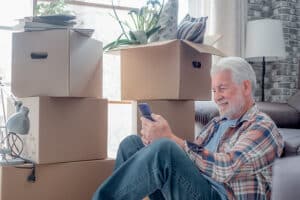 Most seniors want to stay in their homes as they get older. But there are a lot of myths about aging in place that make some seniors and their families worry about seniors continuing to live independently as they age. Let's bust some of the biggest myths about aging in place so seniors and their families can see that aging in place really is a good option for most seniors:
Myth: Aging in Place Causes Social Isolation
One of the prevailing myths is that seniors who age in place will become isolated and lonely. While isolation is a concern, it can be mitigated through various means such as community engagement, social activities, technology, and regular interactions with family and friends. In-home care is a great way for seniors to stay at home and get the social interaction they need to be healthy.
Myth: It's Unsafe to Live Alone
Safety is a valid concern, but with proper planning and home modifications, seniors can create a safe living environment. Installing handrails, ramps, and non-slip flooring can significantly reduce the risk of accidents. In-home care can also help seniors stay at home safely.
Myth: Aging in Place Means No Assistance
Many believe that aging in place equates to complete independence without any assistance. In reality, seniors can receive in-home support from caregivers, healthcare professionals, and home healthcare services, allowing them to maintain their autonomy while receiving necessary care.
Myth: Downsizing Is the Only Option
Downsizing to a smaller home or moving to an assisted living facility is often seen as the only alternative to aging in place. However, many seniors prefer to stay in their familiar surroundings, and with proper modifications, they can do so safely and comfortably. Seniors don't have to leave their treasured family homes or the homes they love just because they are getting older.
Myth: Aging in Place Is Only for the Healthy
Some think that only physically fit seniors can age in place. However, there are various support systems, medical services, and adaptive technologies that can assist seniors with health conditions or limited mobility. Even seniors with Alzheimer's, Parkinson's, and other health challenges can live independently with the right in-home care.
Myth: It's Too Difficult to Maintain a Home
Concerns about home maintenance as one ages can deter seniors from aging in place. However, there are services available that can help with routine chores, repairs, and maintenance tasks, making it more manageable.
Myth: It's Too Late to Plan for Aging in Place
Some believe that aging in place can only be planned in advance. However, it's never too late to make modifications, access resources, and set up support systems that facilitate safe and comfortable living at home.
Myth: Seniors Will Lose Independence
A misconception is that aging in place will eventually lead to a loss of independence. In reality, with careful planning and a strong support network, seniors can maintain a high level of autonomy while still receiving assistance when needed.
Myth: Aging in Place Neglects Healthcare Needs
Concerns exist that aging in place could neglect seniors' healthcare needs. In reality, home healthcare services, telemedicine, and regular medical check-ups can ensure that seniors receive the medical attention they require.
If you or an aging loved one are considering hiring

in-home care in

Anderson

, SC, contact 

Heart of the Carolinas Home Care at 864-991-3116.

 

Providing Home Care Services in Greenville, Simpsonville, Greer, Anderson, Spartanburg, Mauldin, Seneca, Laurens, Charleston, Columbia and the surrounding area.
Latest posts by Edward Harrison
(see all)