Spartanburg, SC – Home Care Activities
For seniors who spend most of their time at home, crafts are a fantastic way to get their minds active and give them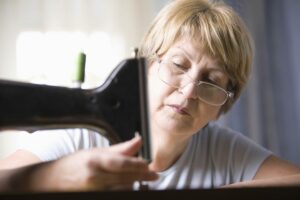 something fun to do that changes up their day-to-day routine. Crafts are also a simple, yet enjoyable way to engage with seniors and get to know them better. Many crafts make beautiful and meaningful gifts for birthdays and holidays.
The easier it is for your parents and their home health services provider to access the materials they need for crafting and come up with ideas for projects, the more likely they are to spend their time enjoying this activity together. Creating a craft center in their home provides what they need in a safe central location so the home stays organized.
Use these tips to help you create a thorough and organized craft center for your parents:
• Establish a place in the home with plenty of space and light where your parents can do their crafts. The craft center should be near this place so it is easy to get the projects ready quickly and without the need to move supplies from room to room.
• Use a specific piece of furniture to store and organize the supplies. Shelves such as bookcases work well but make it more difficult to limit access to the supplies. Look for small chests of drawers you can paint or stain to match the look of the rest of the room. This provides ample space to organize supplies while keeping them out of reach in between crafts.
• Use plastic shoeboxes to hold each individual type of craft supply and label it clearly so your parents can easily get what they need for a project and clean back up when they are finished.
• If your seniors have cognitive challenges, it is important to keep certain supplies inaccessible. Store scissors, paper cutters, brads, glue, and other potentially dangerous materials in a separate box or in a locked drawer
• Talk with your parents about the types of crafts they may like to try so you can build a craft center they will enjoy. They may have done a certain craft for many years, such as knitting, crocheting, or sketching, or they could be interested in trying a new craft.
• Replenish the center frequently. Keep up with the supplies so your parents do not run out of what they need to do their favorite craft. Occasionally add in a new supply or a special version of something they particularly enjoy, such as holiday-printed paper or new colors of yarn. This keeps their minds active and their creativity flowing.
• If your parents do not have a favorite type of craft, inspire their creativity by typing up instructions for simple activities, laminate them, and keep them near the supplies so your parents' home care provider can choose a craft when looking for an activity.
If you or an aging loved one are considering hiring home care services near Spartanburg, SC, contact Heart of the Carolinas Home Care at 864-991-3116.
Providing Home Care Services in Greenville, Simpsonville, Greer, Anderson, Spartanburg, Mauldin, Seneca, Laurens,Charleston, Columbia and the surrounding areas.
Latest posts by Edward Harrison
(see all)