Caregiver in Columbia SC
Eating a healthy diet becomes even more important as we age. Older adults are unable to absorb the amount of nutrients that they could in their younger days. This is why it is even more important that the foods they do eat are packed with vitamins and minerals that their body needs to work properly.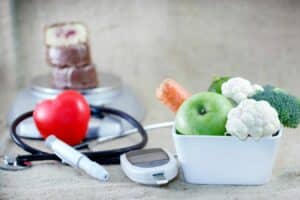 As important as nutrients are to their diet, many seniors fail to eat foods that they need. With the help of their caregivers, here are just a few vitamins and minerals to look for either in their food or in supplements.
Calcium
Older adults lose bone mass as they age, increasing their chances of developing osteoporosis. Getting plenty if calcium each day can not only slow down the loss of their bone mass, but keep their bones strong and healthy. If your elderly loved one does not get enough calcium, their body will begin taking calcium from their bones, causing them to become more brittle. Low-fat dairy products and certain vegetables, like kale and broccoli, are chalked full of calcium.
Vitamin B12
Vitamin B12 helps keep the nerves functioning properly by creating DNA and red blood cells. The problem with this nutrient is the fact that older adults are not able to absorb B12 as well as younger people. However, there are supplements available in order to make sure they get plenty of this vitamin in their diet.
Folic Acid
This is a type of B vitamin that can be found in a wide range of fruits, vegetables, and fortified cereals. If the elder does not get enough folic acid, they may develop anemia. If your loved one is deficient in this nutrient, encourage them to talk to their doctor about getting a supplement prescribed for them.
Vitamin D
Another vitamin that can help keep the bones healthy and strong is vitamin D. In fact, it is used to help the body absorb calcium in order to prevent the loss of bone density. Vitamin D can also prevent the development of several chronic health problems, like diabetes, osteoporosis, multiple sclerosis, and rheumatoid arthritis. Foods that contain vitamin D are fortified cereals and juices, eggs, salmon, tuna, and fortified milk.
Potassium
Getting plenty of potassium can also help older adults maintain their bone density. It can also reduce high blood pressure and the risk of kidney stones by helping the cells work properly. Bananas, plums, potatoes, and prunes are just a few fruits and vegetables that are high in potassium.
If your elderly loved one lives alone, they may not have the motivation to cook healthy meals and snacks. With the help of a home care provider, they will be able to prepare meals and grocery shop for foods and drinks that will keep their body healthy.
If you or an aging loved one are considering hiring 

caregiver services in Columbia, SC

, contact Heart of the Carolinas Home Care at 864-991-3116.  Providing Home Care Services in Greenville, Simpsonville, Greer, Anderson, Spartanburg, Mauldin, Seneca, Laurens, Charleston, Columbia and the surrounding areas.
Source:  http://www.webmd.com/healthy-aging/nutrition-world-2/missing-nutrients
Latest posts by Edward Harrison
(see all)