Caregiver in Columbia SC
Dementia is a devastating disorder with no known cure. It affects millions of people each year in the United States and in addition to the horrible toll it takes on those suffering with the disorder,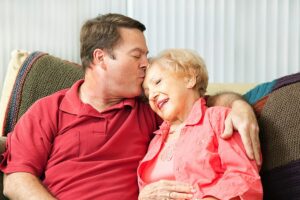 the disease also puts a heavy strain on the caregivers. Since the majority of dementia patients receive home care, it is often adult children who provide the care for elderly parents along with assistance from elder care service providers. Caring for your parent who is suffering with dementia is difficult, but these simple tips may help to ease the difficulties.
Do Not Try to Do it All Alone
One of the most common problems among adult children who caring for elderly parents is depression. It is extremely important to ask for help as soon as possible, especially if you feeling overwhelmed and/or anxious. The emotional stress that comes with caring for a parent with dementia can be exhausting. If possible, request the help of other family members or the best scenario is to hire an in-home care service provider to help you.
Have Patience
It can be frustrating when dealing with a parent with dementia, especially when they aren't able to communicate the way they once did. In many cases communication is possible, but in a slower or completely different way than what you are accustomed, so being patient while providing senior care will be beneficial for you and your parent. Give them more tie to process what you are saying and give yourself more time to listen to what they are saying. It is usually helpful to maintain eye contact and to note their facial gestures. Many people with dementia may prefer to shake their head or nod instead of verbally answering questions.
Be Ready for the Inevitable
One of the most devastating tragedies that come with dementia is that the disease always gets worse with time. This means that as a caregiver for your parent with dementia, it will be mentally and physically challenging, so you must be prepared. In most cases, extra help from in-home care provider will be needed, because the requirements are simply too much for one person.
Do Not Use Baby Talk
It is common for family caregivers to have difficulty knowing if their parent with dementia is understanding them, so they will frequently use baby talk to communicate. Even with memory issues, the majority of adults with dementia are able to understand when you speak, if you talk in a slow and even tone. It is also recommended that you ask all who are involved in the senior care to refrain from using baby talk and non-verbal communications.
Most people with dementia will eventually require a great deal of care. There is no reason to think your parent will be any different, so planning ahead will help ease the burden on you as well as on your parent. It is highly recommended that you hire a home care provider early in the stages of dementia, which will help your parent be more comfortable with an elder care provider.
If you or an aging loved one are considering hiring caregiver services near Columbia, SC, contact Heart of the Carolinas Home Care at 864-991-3116.
Providing Home Care Services in Greenville, Simpsonville, Greer, Anderson, Spartanburg, Mauldin, Seneca, Laurens,Charleston, Columbia and the surrounding areas.
Source
http://www.alz.org/what-is-dementia.asp
Latest posts by Edward Harrison
(see all)