Caregiver in Simpsonville SC
During the dark, cold days of winter, it is easy for family caregivers to find themselves dragging throughout the day and just wanting to crawl back into bed.  Since caregiving is a 24 hour job,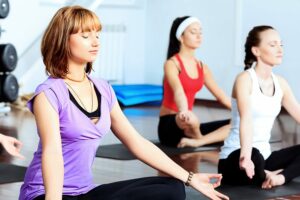 many caregivers also fight sleep deprivation on a regular basis, making long days even tougher to get through.  Many caregivers who are searching for an energy boost automatically reach for the coffee – maybe even several times per day – but, there are other, more healthy ways to keep energy levels up even when the day seems like it will never end.  Here is a list of a few natural ways to keep your energy level up, even when you are tired and fatigued:
Stay Hydrated
Drinking plenty of water is great for your overall health and it can keep you going during those long, sleepy days.  This is because dehydration can actually cause you to feel more tired and weak.  When you drink plenty of water throughout the day, you will prevent dehydration and the sleepiness that comes with it.
Get Moderate Exercise
It is very hard to find the motivation to exercise when you are tired.  But, fighting the urge to skip a daily workout may give you more energy in the long run.  Of course, long and rigorous workouts may leave you feeling more drained, but moderate, short (about 30 minutes), and fun exercise activities will actually give you and energy boost.  In addition, daily exercise can help you fight stress and maintain a healthy mood.
Avoid the Caffeine Cycle
Drinking caffeinated beverages can give you a temporary energy boost and this is not necessarily a bad thing!  However, drinking too much caffeine throughout the day in the form of soda, coffee, energy drinks, and tea can actually cause you to have trouble sleeping at night.  When you repeat these habits day after day, it becomes a vicious cycle that is hard to break.  Instead of relying on caffeine all day, limit yourself to a few caffeinated beverages early in the day only.  Remember, caffeine has a dehydrating effect, so it is a great idea to replace those midday to evening cups of coffee with a few glasses of water.
Eat Healthy Snacks Throughout the Day
Instead of eating large meals that are filled with fat, simple carbohydrates, and sugars which can make you feel even more tired and sluggish, aim to eat more small meals throughout the day.  Fruits and vegetables can help keep your hunger at bay, your body hydrated, and your energy levels renewed.
If you or an aging loved one are considering hiring caregiver services near Simpsonville, SC, contact Heart of the Carolinas Home Care at 864-991-3116.
Providing Home Care Services in Greenville, Simpsonville, Greer, Anderson, Spartanburg, Mauldin, Seneca, Laurens, Charleston, Columbia and the surrounding areas.
Source: http://www.aarp.org/home-family/caregiving/info-2014/energy-boosters-sleepy-caregivers.html
Latest posts by Edward Harrison
(see all)