Home Care in Charleston SC
There is no escaping social media. Not only is it everywhere, people of all ages from the toddlers to seniors are using it to engage with others. For seniors who are receiving in-home care, it can be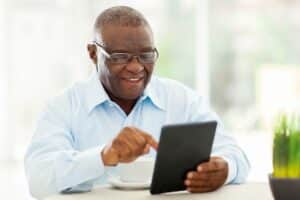 a great way to keep up with the world around them and to stay connected to family and friends they might not see that often due to the difficulty of getting out. Here are three reasons seniors receiving elder care at home should be engaged on social media.
Meeting Others
Social media helps to expand the opportunities to meet other people and make new friends. No longer do they have to be constrained by the boundaries of their apartment complex or neighborhood. Not only that, but social media makes it easy to meet other like-minded individuals. On some social media platforms, there are groups that individuals can join if it pertains to an activity they enjoy or enjoyed doing at one time. For instance, if they were avid kayakers at one time, they would most likely be able to find an online group for members who also enjoy that particular sport.
Share Their Stories
Seniors are a part of a generation that have some pretty amazing experiences and stories to tell. Some of them were born in the era of the Great Depression. In 2014, there were one million veterans who fought in WWII that were still alive. Social media can help give seniors a voice and platform as a way to share their experiences. For seniors who want to try their hand at starting their own blog, there are many blogging tools available that are relatively simple to learn.
Learn New Things
The online world has never made it easier for those receiving senior care at home to learn new things. Online classes are available on nearly every subject possible – from psychology to cooking. Some online classes are even offered for free. For those seniors who don't want to use the internet to go back to school, they can learn by watching videos or reading books online. Another way they can learn is by using the internet and social media to do research on topics that interest them. For seniors who can't get to the library, using technology is a great way to learn. Sometimes learning involves asking questions and social media is a great way to seek out people who can provide answers.
It is important to note that even though using social media is a great way to meet others, share stories, and learn new things, it shouldn't be used as a replacement for all human connection. This is still important, especially for seniors. While it's great to keep up with the grandkids via the internet, nothing beats a personal visit from them and other family members and friends.
If you or an aging loved one are considering hiring home care services near Charleston, SC, contact Heart of the Carolinas Home Care at 864-991-3116.
Providing Home Care Services in Greenville, Simpsonville, Greer, Anderson, Spartanburg, Mauldin, Seneca, Laurens,Charleston, Columbia and the surrounding areas.
Source
http://www.pewresearch.org/fact-tank/2014/06/06/on-d-day-anniversary-only-1-million-world-war-ii-veterans-still-alive/
Latest posts by Edward Harrison
(see all)