Family caregivers always seem to put their aging loved one's needs before their own in an amazing act of dedication and service. However, caring for a senior can take an enormous toll on time, energy, physical health, and mental health. Most family caregivers feel this imbalance most acutely during the winter holiday season when there are so many demands on their time and attention. Before they become overstressed and burn out, many family caregivers investigate hiring home care providers for holiday respite care.
What is Holiday Respite Care?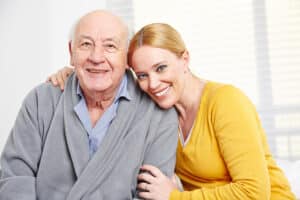 Most family caregivers don't realize that taking good care of themselves is one of the most important things they can do for their personal health and wellness. However, the high demands of elderly care often prevent them from doing so. During the holidays, there are many different things that take up any spare time, from parties and celebrations to family traditions, events and religious services. Most of the time, family caregivers simply cannot do it all without burning out.
Holiday respite care is where a trained and professional home care provider provides relief to the family caregiver by taking over the senior care duties. They can be scheduled at any time, for as often as they are needed during the busy holiday season and beyond. A home care provider is the ideal solution for family caregivers to embrace the holidays while keeping their elderly relative safe and healthy.
How to Use Holiday Respite Care Effectively.
Home care providers are the trained professionals that family caregivers can hire to work with their dependent senior relatives. They are trained in most areas of senior care, stepping in to help when the aging adult needs something that they cannot do for themselves. From light housekeeping and laundry to hygiene and companionship, the home care provider can handle it all. This competent and compassionate professional makes it easier for family caregivers to get some respite to attend to holiday needs.
There are many features of the winter holiday season that are good for restoring a positive outlook on life. Celebrations bring friends and family closer together and provide fun social connections. The beauty of displays, concerts, and performances can make family caregivers feel happy and peaceful. Participating in holiday traditions is important for everyone to enjoy themselves and feel refreshed and restored. When family caregivers get respite from their duties, they return to the job feeling healthier, happier, and less stressed.
Family caregivers should hire home care providers during the holiday season, so they can have some respite from their overwhelming duties. Many family caregivers soon see the value in having a home care provider around, and often extend the services beyond the holidays. They quickly realize how important it is for them to find balance in their lives and trust the professional and capable care of home care providers for their elderly relative.
If you or an aging loved one are considering hiring caregiver services in Seneca, SC, contact Heart of the Carolinas Home Care at 864-991-3116.  Providing Home Care Services in Greenville, Simpsonville, Greer, Anderson, Spartanburg, Mauldin, Seneca, Laurens, Charleston, Columbia and the surrounding areas.
Latest posts by Edward Harrison
(see all)