Home Care in Charleston SC
Families' needs and goals change during the course of a lifetime. With new babies and rambunctious toddlers, parents know to install "baby-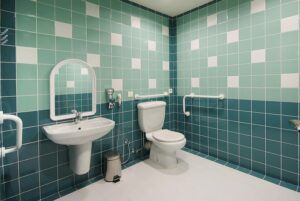 proofing" safety items such as outlet covers, cabinet locks, gates, and doorknob covers. But rarely do they think about installing protective or preventive household items for aging seniors as they begin needing home care.
As seniors age, balance and reaction time can both decrease. Especially in environments that have stairs there are some common sense provisions that should be taken for seniors remaining at home.
First, obviously, are steps and stairs. There should be strong and stable railings for seniors to hold on to both inside the house and coming in (or going out of) the home or garage. These should be periodically checked for sturdiness and stability, before any problems happen.
Second are slippery floors. Bathrooms, especially tiled bathrooms, can be dangerous for seniors getting into or out of the shower or tub. Having handles ("grab bars") installed can make the process safer and more stable. Converting a tub into a walk in shower to avoid the large step in may also be helpful, and installing a hand-held showerhead can allow the senior to wash themselves more easily. A shower "seat" may also be useful.
In more extreme situations, it may become necessary to widen hallways to accommodate walkers or wheelchairs, cabinets can be made accessible, and even ramps can be installed if steps and stairs are too difficult for a senior to manage.
Grab bars are the best choices for seniors to help them on and off of the toilet, to help them keep their balance at the sink, and again on both the inside and outside of the shower so they can keep their balance both getting in and out. Putting a nonskid rug with a sticky back can also help keep them from slipping as they get out of the shower or tub. Installing a raised toilet can also help seniors better fend for themselves as it requires less balance and muscle control.
Third are tripping hazards throughout the home. These might include throw and other decorative rugs with curling corners, wheeled furniture (which should be kept in the locked position), and that cleaning products used on hard floors do not create a waxy finish which may make the floors more slippery. Encourage seniors to wear slipper socks with non-skid bottoms, and to keep phones readily accessible so they can call for help in the event that they do fall.
If you or an aging loved one are considering hiring home care services near Charleston, SC, contact Heart of the Carolinas Home Care at 864-991-3116.
Providing Home Care Services in Greenville, Simpsonville, Greer, Anderson, Spartanburg, Mauldin, Seneca, Laurens,Charleston, Columbia and the surrounding areas.
Latest posts by Edward Harrison
(see all)