Home Care in Seneca SC
When loved ones lose their spouse or companion they have shared their home with for many years, it's natural for them to experience feelings of sadness. However, if feelings progress for a long period of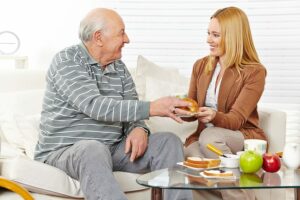 time, it may become necessary for families to intervene and begin discussions about bringing in a home care companion. This is especially true for those loved ones who wish to remain in their homes to age in place and, as they continue to grow older, may need additional elder care assistance.
Home Care Eliminates Isolation
It isn't uncommon for seniors to isolate themselves, consciously or unconsciously, when they experience a sudden change or the loss of a loved one. This type of isolation could lead to depression over time. When a home care companion is introduced into the situation, that isolation may begin to reverse. Not only will the caregiver be able to consistently check on the loved one's well-being, but their presence will help fill that uncomfortable void their experiencing. While feelings of sadness could still be felt for a long period of time, and this is normal, loved ones will feel less lonely.
Home Care Helps Aid in Socialization
Another way of staving off depression is through actively engaging in socialization. Home care companions can help facilitate this with aging seniors so they can successfully achieve this goal comfortably within their homes or within their outside communities. This is completely dependent upon their elder care needs. Socialization can be as simple as hosting weekly card games to attending frequent community events.
Home Care Encourages Physical Fitness
Depressive feelings are further staved off through physical fitness. With the help of a home care companion, aging seniors can work on fitness plans and routines at home or at a senior care facility. When physical activity is incorporated into regular routines, it helps increase endorphin levels and stabilizes moods. This is another opportunity for socialization, as well, if seniors are able to leave home with their caregiver to attend fitness classes.
Home Care Companions Create Bonds
Over a period of time, a special bond unlike any other is established between aging seniors and their home care companions. While seniors may balk at the idea of a senior care providers coming into their home at first, especially if they don't believe they're depressed or isolated, they'll soon come to develop a trusting friendship and lasting relationship with their caregiver.
Families who are concerned their aging loved ones may be experiencing issues with isolation or depression, it is important to act sooner than later. Home care companionship offers many benefits above and beyond that of staving off depressive feelings. Beginning talks about elder care now will not only help aging loved ones experience a better quality of life, but it will also help but family members' minds at ease. Therefore, families should come together for a meeting to discuss elderly care options. At some point, it may also be a good idea to include the aging loved one in the discussion so they know what is going on and nothing comes as a surprise.
If you or an aging loved one are considering hiring home care services near Seneca, SC, contact Heart of the Carolinas Home Care at 864-991-3116.
Providing Home Care Services in Greenville, Simpsonville, Greer, Anderson, Spartanburg, Mauldin, Seneca, Laurens,Charleston, Columbia and the surrounding areas.
Latest posts by Edward Harrison
(see all)