Home Care in Charleston SC
Driving is the mode of transportation for most people. It provides them the freedom to go anywhere they would like and at any time. But what happens when this freedom is taken away from an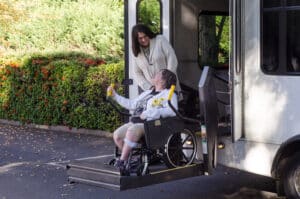 elder who can no longer drive? Whether they have health problems that makes it impossible to get behind the wheel or stiff muscles and joints that makes it challenging to turn their head when changing lanes, this can be a difficult concept to grasp. After all, they did spend a majority of their adult life driving themselves.
Fortunately, there are numerous transportation ideas for seniors who can no longer safely drive. If you are looking for an option that would work for your aging parent, here are just a few transportation ideas to consider.
Home Care Provider: Along with taking care of tasks around the home, personal care assistance, and companionship, a home care provider can also offer your loved one transportation.
Taxis: This option can be much more costly, depending on how far the elder needs to travel. However, taxis are readily available in many locations and are able to take your loved one wherever they need to go. The bad news is that many taxi drivers will not assist the passengers in and out of the cab.
Public transportation: Public transit systems are extremely affordable and can easily be found in almost any town or city. Similar to taxis, there are some drawbacks to using this option. First of all, your loved one will need to climb up the stairs of the transit system by themselves since many drivers will not be able to help. Second of all, the elder will be surrounded by many people, some of which may be ill. Since elderly adults have compromised immune systems, even catching a simple cold could be dangerous. And lastly, the elder will need to adhere to the bus's schedule instead of their own.
Friends and family: If you or other family members are able to provide transportation for an aging loved one, then this is an excellent option. Not only will they know the driver, but it will cost no money and will allow them to work with their own schedules instead of those of other transportation companies. If this is the route you would like to take, make sure you have a backup driver available in case the original one is unable to do so.
Transportation is important for people of all ages, but can be difficult for many older adults to do alone. Consider these four transportation ideas for your elderly loved one.
If you or an aging loved one are considering hiring 

home care in Charleston, SC

, contact Heart of the Carolinas Home Care at 864-991-3116.  Providing Home Care Services in Greenville, Simpsonville, Greer, Anderson, Spartanburg, Mauldin, Seneca, Laurens, Charleston, Columbia and the surrounding areas.
Source:
http://www.aarp.org/relationships/caregiving-resource-center/info-10-2010/pc_transportation_options_for_nondrivers.html
Latest posts by Edward Harrison
(see all)