Home Care in Charleston SC
Summer is the time of year when it seems like everyone is either hosting or attending an outdoor cookout just about every weekend.  Cookouts can be a fun way for families to get together and for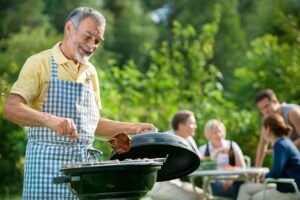 friends to catch up and there is no reason why elderly adults need to miss out on the fun!  If you are considering helping your elderly loved one host a summer cookout at their house, here are a few tips to help make the day special, memorable, and fun:
Choose the Right Time
If your elderly loved one has a consistent daily routine, you probably know which times of day will find them in the best spirits.  For some, morning will be their best time and others may prefer afternoons.  Consider this when planning a time for the cookout so that your elderly loved one may enjoy the day and not feel too tired to participate.
Make the Guest List Together
Many elderly adults, especially those with Alzheimer's disease or dementia, feel overwhelmed or anxious in large crowds, even if around people they know and love.  Similarly, other elderly adults may be social butterflies and enjoy the excitement of a large party.  Consider your loved one's feelings about party size when planning the cookout and write the guest list together.
Make it Stress-Free
Cookouts should be fun and relaxing and they shouldn't cause you stress, even if you are the host.  Make planning manageable by deciding what things you can and can't do.  If you enjoy cooking for a crowd and can do so with pleasure, then you may enjoy doing all of the cooking.  However, if cooking is not your favorite, consider making the party a potluck or having some of the food catered.
Plan for Weather
During the summer months, you can usually count on the weather to cooperate, but you must expect a rain shower from time to time.  Make sure you have some alternate plans just in case the weather takes a turn during your cookout so that your loved one and all of the guests can still have an enjoyable time.  Consider renting a tent or setting up and area of the house that can fit all of the guests as an alternate cook out location.
Don't Ignore Safety
Cookouts can be fun as well as hectic so it can be easy to forget about simple safety precautions that you probably take every day.  Make sure your loved one is protected from sun when they are outdoors by using sunscreen or a hat.  In addition, make sure the yard or cookout area is free from tripping hazards.
If you or an aging loved one are considering hiring 

home care in Charleston, SC

, contact Heart of the Carolinas Home Care at 864-991-3116.  Providing Home Care Services in Greenville, Simpsonville, Greer, Anderson, Spartanburg, Mauldin, Seneca, Laurens, Charleston, Columbia and the surrounding areas.
Latest posts by Edward Harrison
(see all)