Elderly Care in Greenville SC
Around 12 percent of women throughout the country, approximately 1 in 8 women, will develop breast cancer at some point in her life. Of these women, just under 39 percent received a single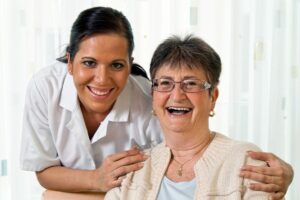 mastectomy as part of their treatment. Another just over 6 percent received a double mastectomy. Though these treatments are highly effective at aiding in the fight against cancer, they can also have a significant emotional impact on the woman undergoing the procedure. If a mastectomy is going to be part of your elderly care journey with your aging parent, taking the time to help her cope after the procedure will make the experience less stressful and improve her chances of a high quality of life after it is done.
Use these tips to help your loved one cope after a mastectomy:
Talk about it ahead of time. One of the best ways to help your mother get through recovering from her mastectomy is starting before the surgery. Be upfront and honest and talk about the situation. Encourage her to tell you how she is feeling and any of her fears. If she has concerns, talk through them with her doctor so that he can explain them.
Empower her. Many women like to choose a symbol of femininity to empower them through the surgery. Some choose to wear red lipstick, have their toenails painted, or even select a beautiful gown to wear afterwards. Talk about what she thinks would make her feel better and have fun coming up with ways to feel stronger during the experience.
Confront the possible risks. You might not want to think about anything potentially dangerous happening to your loved one during this surgery, but it is important to talk about the potential risks of the surgery. Not only will this make your parent feel fully informed and in control, but it will also help you prepare for her care afterwards.
Reassure her. The idea of having a mastectomy can put an emotional toll on your aging mother. She is likely not just worrying about the surgery itself, but what it will be like after the surgery. Many elderly women are already suffering with the feeling of not being as feminine as they were when they were younger, and the mastectomy might make them feel like they are losing even more of their femininity. This can be very stressful and lead to depression, anxiety, and loss of motivation. Reassure her that she is no less feminine and that there are still many ways that she can express her femininity.
Indulge her. As soon as she is feeling up to it, plan a day or even a short getaway to indulge your mother. Have a spa day so you can enjoy some time together and feel feminine and beautiful. Plan a weekend getaway to a favorite vacation destination and spend some time relaxing in the hotel, sightseeing, and enjoying favorite activities. This bit of indulgence is a wonderful way to put the upset of the procedure behind her and focus on making treasured memories.
If you or an aging loved one are considering hiring elderly care services near Greenville, SC, contact Heart of the Carolinas Home Care at 864-991-3116.
Providing Home Care Services in Greenville, Simpsonville, Greer, Anderson, Spartanburg, Mauldin, Seneca, Laurens, Charleston, Columbia and the surrounding areas.
Sources:
http://www.everydayhealth.com/breast-cancer/mastectomy/
http://www.breastcancer.org/research-news/more-double-mx-but-survival-same-as-lx
Latest posts by Edward Harrison
(see all)