Caregiver in Spartanburg SC
Whether you and your loved one are planning to visit out of town relatives, go to a traditional summer vacation spot, or go on an exciting road trip, vacation planning can sometimes feel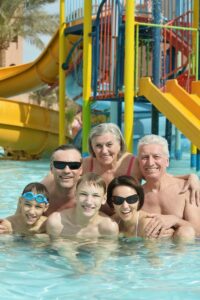 overwhelming and stressful. Even though vacations are meant to be fun and relaxing experiences, we often get so caught up in the planning and packing that we forget to truly unwind! If you are a family caregiver who is planning on taking a vacation with your loved one this summer, read on for some helpful tips for making your summer vacation relaxing and fun for both of you.
Write a Packing List
Waiting until the last minute to pack your bags can be stressful and make it easier to forget the things you need. Instead, start making a packing list a week or two before your trip and write down items you and your loved one what to bring as you think of them. That way, when it is time to pack the suitcases, you will have a complete list of all of the things you need ready to go! Some things to put on top of the list include phone chargers, medications, sunscreen, bug spray, and comfortable shoes.
Have a Flexible Itinerary
Another thing that can make a vacation stressful and not relaxing is a rigid itinerary. Instead of filling the days with many activities, include some empty spots on your itinerary to allow for spontaneous activities or general relaxation. Be flexible with your planned activities and allow for alternatives when the weather is unfavorable or the lines are long.
Get Recommendations
When traveling to a new place, it can be hard to decide where to stay, where to eat, and what activities to do. If you have friends of family members who have visited before, ask their advice before making your plans. Recommendations from trusted friends can be invaluable when visiting a new city or town!
Call Ahead
If you will be staying at a hotel, it is a great idea to call ahead or check the website to see what the accommodations are, especially if your loved one uses a wheelchair or needs a room that is handicap accessible. It is also a good idea to ask if other amenities like the pool, restrooms, fitness room, or office are handicap accessible, as well.
If you or an aging loved one are considering hiring

caregiver services in Spartanburg, SC

, contact Heart of the Carolinas Home Care at 864-991-3116. Providing Home Care Services in Greenville, Simpsonville, Greer, Anderson, Spartanburg, Mauldin, Seneca, Laurens, Charleston, Columbia and the surrounding areas.
Latest posts by Edward Harrison
(see all)