Caregiver in Seneca SC
When you're in the midst of certain challenges, it may be difficult to see the forest for the trees, so to speak. If you've been taking care of your elderly father, and maybe this has been going on for several weeks, months, or even years, you may not realize it but you are a caregiver.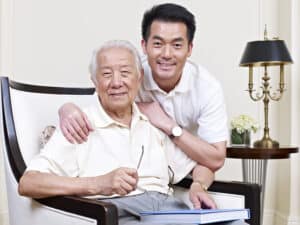 You might feel it's your responsibility so you don't think of it as being a caregiver, but that's exactly what's happening.
As a family caregiver, you may be dealing with a tremendous amount of stress and anxiety in your life. A lot of people have difficulty recognizing the signs of stress and anxiety until it's almost too late.
The best thing you can do for yourself and your father is consider home care support services. In the meantime, here are a few signs that may indicate your life is being negatively impacted by your work as a family caregiver.
1. You're stressed.
Caregiver stress is real. It affects millions of people every single year. In fact, out of the estimated 44 million family caregivers in the United States, the vast majority of them are dealing with extra stress in their life as a result of this work.
It's not always easy to see the stress, but if you're losing your temper, having trouble sleeping, and feeling overwhelmed at least several days during the week, it could be the result of stress.
2. You're losing sleep.
If you're not sleeping well, it could be the result of stress and anxiety. You might have a difficult time turning off your thoughts when it comes to bedtime. Stress will do that to you.
3. You're getting angry often.
Whether you're normally an even-tempered person or have a tendency to get frustrated easily, lately you notice you're getting angry more often. That's usually a direct result of increased stress in your life.
4. Your relationships are in trouble.
You might be having trouble with your relationships. Maybe it's your marriage, friendships, or even your work life. You haven't been spending quality time with these individuals in your life and it's starting to show.
Every relationship is like a living creature; it needs time and energy to stay healthy. If you don't have the time to devote to these other relationships, it could be due to the stress you feel in your life now as a family caregiver.
If you or an aging loved one are considering hiring caregiver services in Seneca, SC, contact Heart of the Carolinas Home Care at 864-991-3116.  Providing Home Care Services in Greenville, Simpsonville, Greer, Anderson, Spartanburg, Mauldin, Seneca, Laurens, Charleston, Columbia and the surrounding areas.
Latest posts by Edward Harrison
(see all)